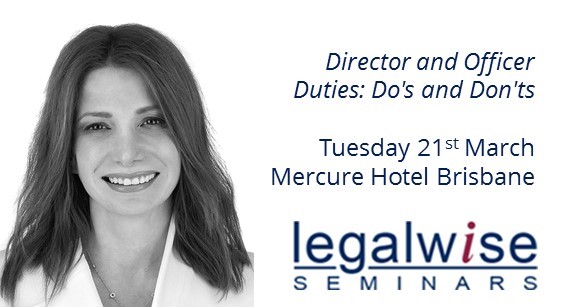 Broadley Rees Hogan Special Counsel Gina Bozinovski will present at a Legalwise Seminar on the topic of Director and Officer Duties: Do's and Don'ts.
The seminar will be held at the Mecure Hotel in Brisbane on Tuesday 21st March 2017.
We are delighted to extend an early bird discount of $85 if you book before 23rd December 2016 and mention Gina's name as a speaker at the event.
Tickets can be bought here.
---
Broadley Rees Hogan (BRH Lawyers) is an independent firm, specialising in corporate, commercial, property, construction and litigation. Based in Brisbane, we act for clients across the country and internationally – for an unassuming firm, we know how to deal big.
For more information, please visit www.brhlawyers.com.au or contact us on (07) 3223 9100.